So, after the first month into the New Year, I've found myself biting my bottom lip in tandem with slapping my forehead.
Nerds like me (I'm kind of proud to admit that) spend their whole December making lists of their favourite albums, songs, and all the rest of it. What nerds like me don't always admit is that there's always that album or two that slips through the cracks.
Okay, so one or two right? Not exactly. Call it inflation. Yes, inflation. I think we can all agree that there's too much at our disposal nowadays. Listening to music today as opposed to holding an ear to a tune fifteen years ago isn't really the same, is it? There's just too much out there to absorb. Unless you're unemployed and spend every second of your day locked away in isolation.
Don't get me wrong, I wouldn't change my top 30 (see previous posts). Nor would I tip any honourable mentions off the ship. There's always room for more, and ultimately that's what this post's all about.
Without further blabbering, I bring to you albums that were lost in translation, for one reason or another:
Artist: R.E.M.
Title: Collapse Into Now
Label: Universal
The headlines regarding R.E.M. in 2011 meandered around the fact that Michael Stipe and Co. decided to call it a day. Amid the rumours, the confirmation, the tears, the interviews where every second question demanded reasons as to why the decision was made, many, including myself, forgot that R.E.M. actually released an album; a good album, too. Okay, it contained one of the band's worst songs they ever released ('Mine Smells Like Honey'), but this momentary lapse aside, it held up really well.
Stand out tracks: It Happened Today, Walk it Back
Artist: Jack Ladder and The Dreamlanders
Title: Hurstville
Label: Spunk
Okay, so the dude is of a pale imitation of Nick Cave. There are worse mirrors to look into, though. "Hurstville" comes from a dark place (look no further than the title). From front to back, this album fails to let up on the misery, placing itself as one of the more impressive debut albums to come out of Australia in the more recent times.
Stand out tracks: Cold Feet, Giving Up The Giving Up
Artist: Mountains
Title: Air Museum
Label: Thrill Jockey
Why this one slipped through the cracks, I'll never know. For the middle part of last year this was my go to album before the light went out to end the day. I guess this puts more weight behind my 'there's too much to listen to' theory. In any case, "Air Museum" is probably my favourite Mountains release. They continue to perfect their art of penetrating beautiful soundscapes.
Stand out tracks: Backwards Crossover, Live at the Triple Door
Artist: Wu Lyf
Title: Go Tell Fire to the Mountain
Label: Lyf
I gave this a bit of attention towards the backend of last year and didn't think much to it. Maybe it was the space my head was in at the time, because after going back to it after the calendar turned over, the results left me smiling. They don't sound like a band from Manchester. I see they describe themselves as 'Heavy Pop' (also the title of the album's closing track). It's a pretty good summation with few words. I can see this album occupying a lot of my time in the coming weeks/months.
Stand out tracks: L Y F, Dirt
Artist
: Rustie
Title: Glass Swords
Label: Warp
With the birth of dub step, over time, a lot of sub-genres have emerged; some good, some not so good (in my opinion, anyway). I've always loved the darker side of dub step, as I feel the strongest fabric lies within these parameters of the genre's origins. Rustie has made an album that mashes the dark and upbeat sides of dub step together, not to mention honing in on elements of electronic and hip-hop. Some may even say that it's solely an electronic album, therefore throwing the above analysis out the window. Either way, the results are rather great. My head is slowly turning.
Stand out tracks: Flash Back, Ice Tunnels
Artist
: A.A. Bondy
Title: Believers
Label: Fat Possum
I gave this album a lot of time, based on my love for A.A. Bondy's first two albums. Initially, it left me a little cold on the doorstep. It wasn't until I saw Mr. Bondy and his band live that things opened up for me with this album. Sometimes you need that and with this album, it was pivotal. It's a beautiful addition to his body of work, mixing a lot of the elements that made his first two albums so different from one another, together.
Stand out tracks: Rte. 28/Believers, Scenes from a Circus
Artist

: Total Control




Title: Henge Beat




Label: Iron Lung
Despite a handful of bands, I've been a little disheartened with new music coming out here in Australia. I've only discovered this gem in the last couple of months; Total Control. Thank Christ for these dudes. I managed to see them at ATP's Nightmare Before Xmas and they blew me away. They were even better at Laneway last week, dragging the sounds of post-punk into the now (call it post-post punk if you like). I'm not going to elaborate as to why these guys are so good. Just get yourself out there and buy this album. It's an order.
Stand out tracks: Love Performance, One More Tonight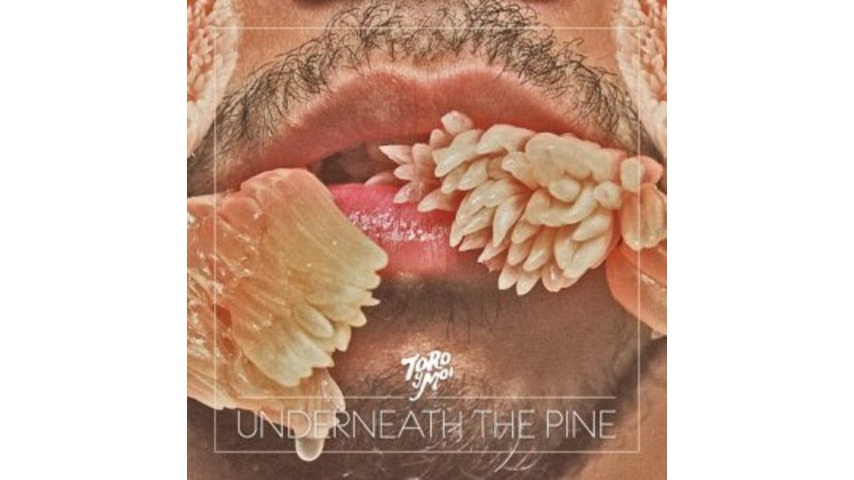 Artist: Toro y Moi
Title: Underneath the Pine
Label: Carpark Records
Continuing on from Laneway, this guy was another one that left me smiling like a fool. His two albums have gained a lot of exposure through your various media sources, but for one reason or another, the hype had always passed me by. Maybe the whole 'Chillwave' tag turned me off, but whatever you call this, there's no escaping the fact that it's hard to pin down. Soul, funk, rock, hip hop. Motown vibes on psychedelic drugs, or something.
Stand out tracks: Devina, How I Know
Artist

: Bry Webb




Title: Provider




Label: Idlee Fix Records
My good friend, Sean, over at Unwelcome Opinion
recently informed me that the Constantines main man had a debut album out; lost in translation, indeed. I haven't given this too much yet, but this addition is merely covering my arse for any future posting where I name check this album, because I know I will fall in love with it. I've always felt that Bry Webb had an alt-country album in him, if not with the Cons then definitely on his own. I'm thrilled that he's done it.
Stand out tracks: Asa, Undertaker
Artist: SBTRKT
Title: SBTRKT
Label: Young Turks
Yet another strong album that passed me by. More dub step that's branched off into other genres, past, present and dare I say it, the future. House, soul, funk, grime, two-step, it's all within the contents on this release. Aaron Jerome's debut draws from a rich landscape of influences, coupled with a collective of primitive and dangerous sounds that are the now. Given the exposure this album has received, it's a little hard as to why I didn't wake up to this beast sooner, but as they say, things happen for a reason. All in one's time, I suppose.
Stand out tracks: Right Thing To Do, Something Goes Right