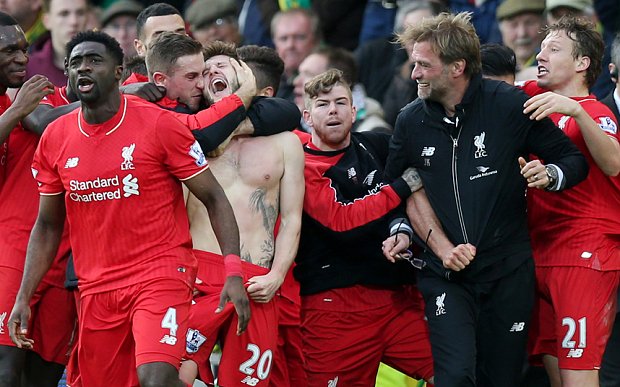 Firstly, I apologise for the lack of all things Liverpool Football Club throughout these parts of late. I took a break during the Christmas period and just can't get my arse back into gear. Let's be honest, though; sites such as Soccernet and the Echo provide similarities that a bloke with his post office bank account just can't compete with.
Whilst on the subject of "woe is me", the weekend's fixture against Norwich has easily taken ten years off my life. I'm sure others of the Red persuasion harbour similar apprehensions. It was so crazy that not even that night in Istanbul provided us with that much of a rollercoaster of emotions. It was simply absurd, and if you wanted to find an example of the grotesque and euphoric examples football can provide within such a short space of time, then the events at Carrow Road provided this flawless narrative. I'm just happy the Redmen came away victorious otherwise that ten year reduction in life expectancy may have extended to twenty.
So, for something different. Here are some discussion points from the match. I would love for you guys to debate on the below issues. Why do you think?:
Let's not mince words here. Liverpool's set piece defending is beyond shambolic. The worst I've seen it, in fact. Paul Tomkins' article sheds some light on the matter in rather fine fashion. Read here.
If I caught my wife in bed with my next door neighbour, would I blame Simon Mignolet? No, but some probably would. Now, I have reservations about his form as much as the next man, but to lay blame at his doorstep for any of Norwich's four goals is simply ridiculous. Those guilty, put your knives back in the

drawer and do a Sudoku.

We probably didn't deserve three points, and for that I do feel sympathy with Norwich. However, as we know, football is a funny game and while we were unlucky not to take the points against Manchester United and perhaps arguably against Arsenal as well, the law of averages have evened themselves out after the weekend's play. Either that or there may just be a football God…

Roberto Firmino is starting to show signs of the player we all thought he could be. Five goals and five assists in a season where he has been in and out of the starting line-up, not to mention playing in different positions. If it weren't for better finishing from some of his teammates, he could have a further three assists and that's not mentioning that he has also hit the woodwork on three separate occasions. There's more to come here, folks.
Jordan Henderson, whilst very much below par, provided a moment which displayed leadership. His goal helped claw Liverpool back into the game. Leadership has been a glaring facet which Liverpool have lacked this season, but this moment provided some of that.

Does a midfield three of Henderson, Lucas, and Emre Can work? Can looks rather uncomfortable in this set-up and appears to work better with one of Lucas and Henderson.

Although James Milner has been much maligned this season, his second half display was arguably his best performance in a Red shirt. Strangely enough, it came from operating on the left hand side.
Speaking of the left hand side, Alberto Moreno's spot in the starting eleven is under threat. If Brad Smith isn't banging on the door for a run in this team, then Jon Flanagan certainly is. Moreno's defensive issues have been well documented, however it may be the time for Klopp to take him out of the firing line.

Jurgen Klopp loves Adam Lallana. Although many may not agree, he is the hardest working player in the team and it seems the hard work finally paid off. His introduction completely changed the complexion of the match and enabled Liverpool to press high, win the ball and move the ball quicker in key areas of the pitch. Let's hope he can kick on and add to his goal tally.

That goal celebration. Words can't explain. Be happy and just laugh (especially at Kolo Toure!). Jurgen Klopp is a complete nutter and I have to say I love it!